Collection of rare woody plants species in M. M. Gryshko National Botanical garden of NAS of Ukraine
Keywords:
Rare woody plants, introduction, collection, conservation, botanical gardens and arboretums.
Abstract
Preservation of rare plant species in nature (in situ) is an effective method of protection and maintenance of genetic diversity, but the preservation of plants ex situ is a necessary complement in modern conditions. In the M.M. Gry- shko National Botanical Garden of NAS of Ukraine to preserve and replenish the collections of plants listed in the Red Book of Ukraine and other protection lists is defined as one of the strategic tasks of the institution. In total, the institution has collected 190 species of plants protected by the law "On the Red Book of Ukraine".The collection of rare and en- dangered tree and shrub plants is represented by 21 species, among which: Vulnerable — 9 (43%), Rare — 7 (33%), Endangered — 4 (14%), Not Evaluated — 1 (5%). This number of species and their representativeness is not suflcient for their successful protection ex situ. There is great prospects for expanding the collection to preserve species and spread the plants to other botanical gardens and arboretums of Ukraine.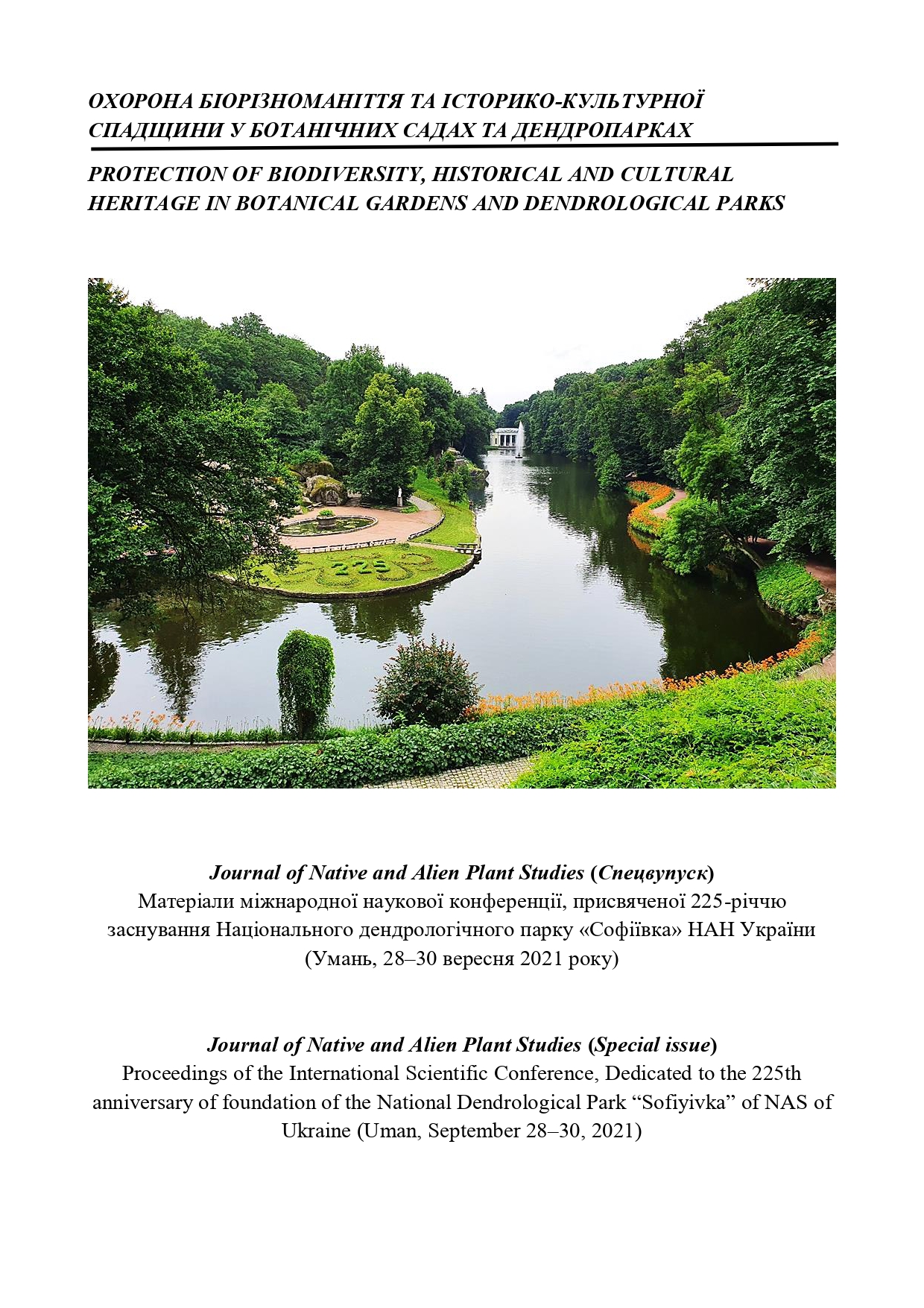 Downloads
How to Cite
Gaponenko, . M. B., & Gnatiuk, . A. M. (2021). Collection of rare woody plants species in M. M. Gryshko National Botanical garden of NAS of Ukraine. Journal of Native and Alien Plant Studies, (1), 45–49. https://doi.org/10.37555/2707-3114.1.2021.247359
License
This work is licensed under a Creative Commons Attribution-ShareAlike 4.0 International License.
The names and email addresses entered in this journal site will be used exclusively for the stated purposes of this journal and will not be made available for any other purpose or to any other party.
Responsibility for technical content and for protection of proprietary material rests solely with the author(s) and their organizations and is not the responsibility of the publisher, journal or its Editorial Staff.
The main author is responsible for ensuring that the article has been seen and approved by all the other authors.
It is the responsibility of the author to obtain all necessary copyright release permissions for the use of any copyrighted materials in the manuscript prior to the submission.