Мodern ways to use lilacs in garden and park building
Keywords:
бузки, зелене будівництво.
Abstract
In landscaping of Ukraine lilacs, as highly ornamental plants, are not used too widely. Therefore, there is a need to investigate in more detail the possibilities of their more active introduction into garden and park building. Materials and methods. Lilacs from collection-exposition area "Syringarium" of the M. M. Gryshko National Botanical Garden, as well as botanical gardens and dendrological parks of Ukraine were used for the study. Methods of field research of physiological and ornamental conditions of lilacs, and also ways of their application were used. Results and discussion. Ways of lilac species and cultivars using in landscaping are presented. The expediency of involving them for the construction of alleys, curbs, ornamental and protective hedges and groups in the illuminated areas of city parks is substantiated. It is proposed to create monocultural, multifunctional collection and exhibition gardens not only in botanical gardens and arboretums, but also in large landscape parks. An assortment of lilacs for each proposed green placement is given. Conclusions. It is shown that lilacs should be used more actively to create various park compositions, for landscaping streets, industrial areas, urban plots and private estates.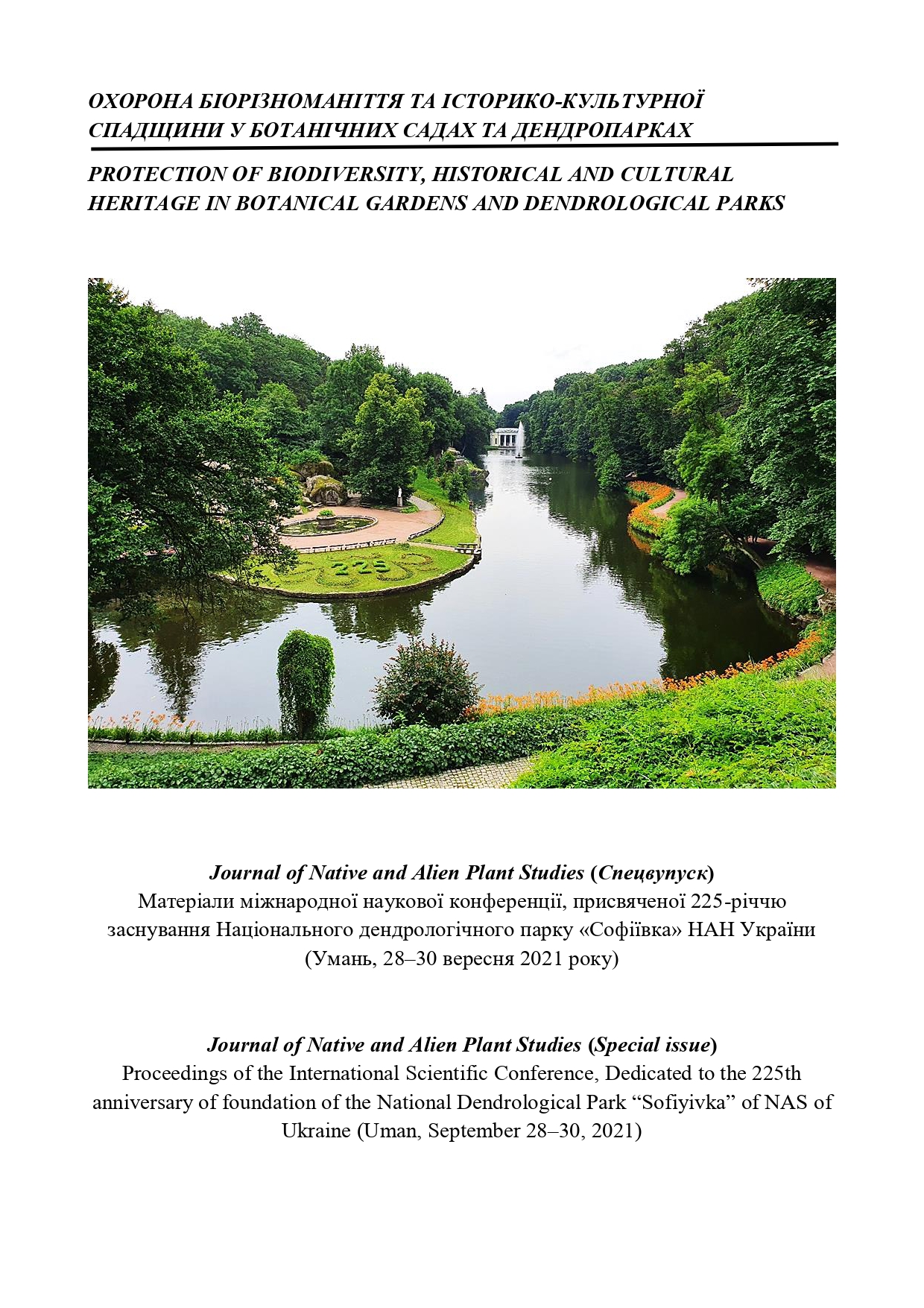 Downloads
How to Cite
Gorb, V. K. (2021). Мodern ways to use lilacs in garden and park building. Journal of Native and Alien Plant Studies, (1), 53–58. https://doi.org/10.37555/2707-3114.1.2021.247362
License
This work is licensed under a Creative Commons Attribution-ShareAlike 4.0 International License.
The names and email addresses entered in this journal site will be used exclusively for the stated purposes of this journal and will not be made available for any other purpose or to any other party.
Responsibility for technical content and for protection of proprietary material rests solely with the author(s) and their organizations and is not the responsibility of the publisher, journal or its Editorial Staff.
The main author is responsible for ensuring that the article has been seen and approved by all the other authors.
It is the responsibility of the author to obtain all necessary copyright release permissions for the use of any copyrighted materials in the manuscript prior to the submission.