Phenology of Gymnospermium odessanum (DC.) Takht. in the M. M. Gryshko National Botanical Garden of NAS of Ukraine
Abstract
The aim is to find out the peculiarities of the phenology of the rare endemic species Gymnospermium odessanum (DC.) Takht. in the conditions of introduction on the botanical-geographical plot "Steppes of Ukraine" of the M. M. Gryshko National Botanical Garden, National Academy of Sciences of Ukraine in 2021. Methods — field stationary and cameral. It is established that the vegetation period of G. odessanum in 2021 lasted from March 24 to May 22 and amounted to 60 days. 10 phenological phases are singled out and characterized: 1) the beginning of vegetation and budding, 2) mass budding and beginning of flowering, 3) mass flowering and completion of budding, 4) flowering peak, 5) mass flowering and the beginning of fruit formation, 6) completion of flowering and mass fruit formation, 7) fruit growth, 8) fruit opening, 9) ripening of seeds in open capsules, 10) dissemination and completion of the vegetation. It was found that during the mass formation of fruits, a significant number of fruits stopped their growth and development and did not form seeds in the future. This could be due to the night frosts on the eve or the difference in the conditions of the region of introduction from the natural habitats of the species. Budding and flowering (in total) account for a smaller part (30%) of the vegetation period. Most (70%) of the vegetation period is associated with fruits and seeds. A significant proportion of the vegetation period is the phenophase of ripening of seeds in open capsules (27%).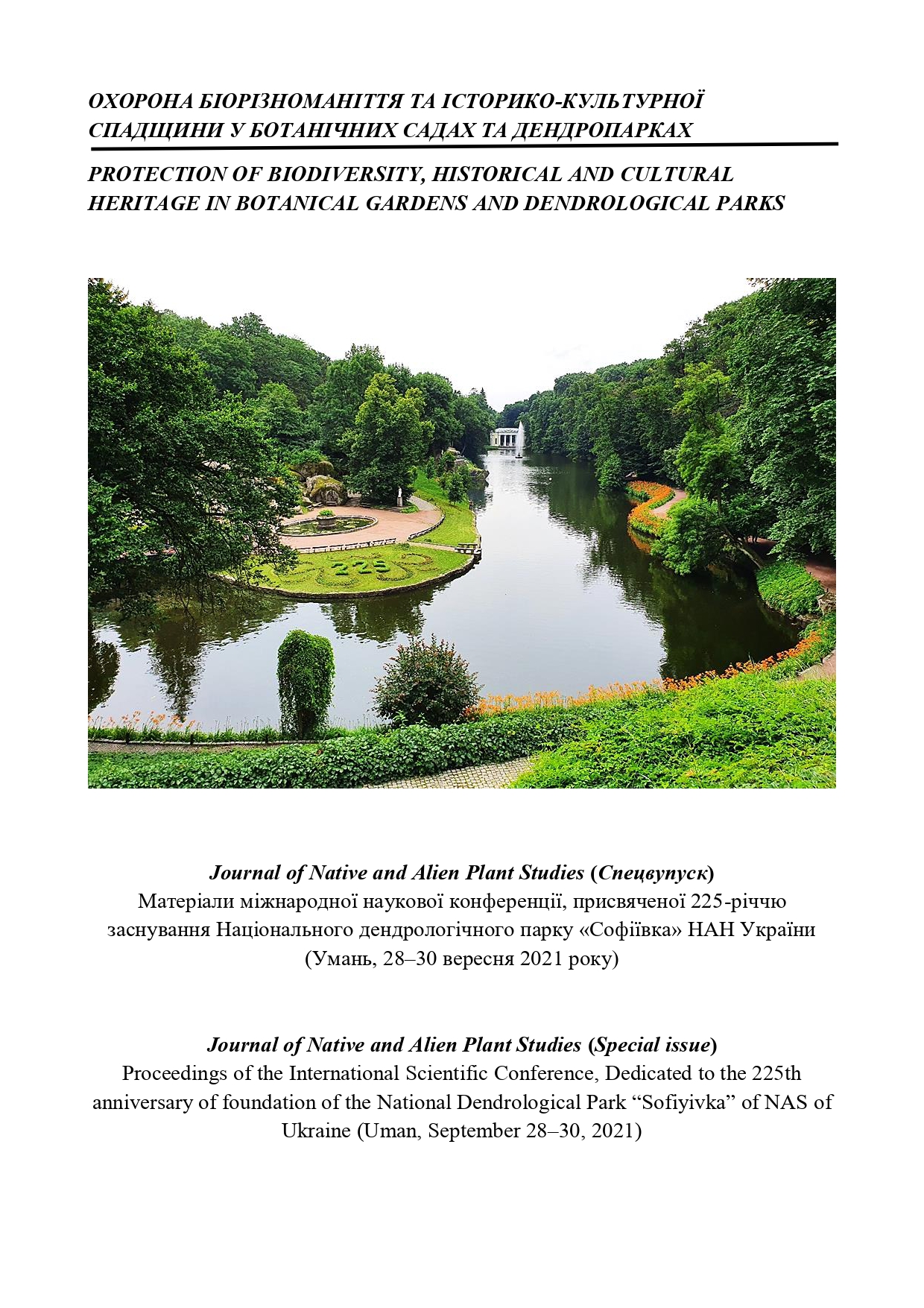 Downloads
How to Cite
Gritsenko, V. V. (2021). Phenology of Gymnospermium odessanum (DC.) Takht. in the M. M. Gryshko National Botanical Garden of NAS of Ukraine. Journal of Native and Alien Plant Studies, (1), 58–63. https://doi.org/10.37555/2707-3114.1.2021.247365
License
This work is licensed under a Creative Commons Attribution-ShareAlike 4.0 International License.
The names and email addresses entered in this journal site will be used exclusively for the stated purposes of this journal and will not be made available for any other purpose or to any other party.
Responsibility for technical content and for protection of proprietary material rests solely with the author(s) and their organizations and is not the responsibility of the publisher, journal or its Editorial Staff.
The main author is responsible for ensuring that the article has been seen and approved by all the other authors.
It is the responsibility of the author to obtain all necessary copyright release permissions for the use of any copyrighted materials in the manuscript prior to the submission.