Distribution of Iris pineticola Klokov in Ukraine
Keywords:
Iris pineticola Klokov, поширення, таксономія, охорона, популяції.
Abstract
According to our own observations, herbarium materials and literature data, the distribution of Iris pineti- cola Klokov — an endemic forest-steppe species included in the Red Data Book of Ukraine in the status of "vulnerable" was analyzed. Data on its taxonomic status are given, distribution map is made (geographical coordinates are restored on the basis of materials of the National Herbarium of Ukraine (KW), herbarium of V. N. Karazin Kharkiv National University (CWU), as well as literature data), range and population data are analyzed. It is established that I. pineticola is distributed in the Right-Bank and Left-Bank Forest-Steppe, occasionally entering the north part of the steppe and the valley of the Siversky Donets. Grows in forests, artificial pine plantations on sandy terraces of rivers. According to own data and analyzed literature, I. pineticola populations are stable. In addition to inclusion in the Red Data Book of Ukraine, at the regional level I. pineticola is protected in Donetsk and Luhansk regions of Ukraine, also protected in the territories of NPP "Holy Mountains" and landscape reserve of national importance "Red Coast".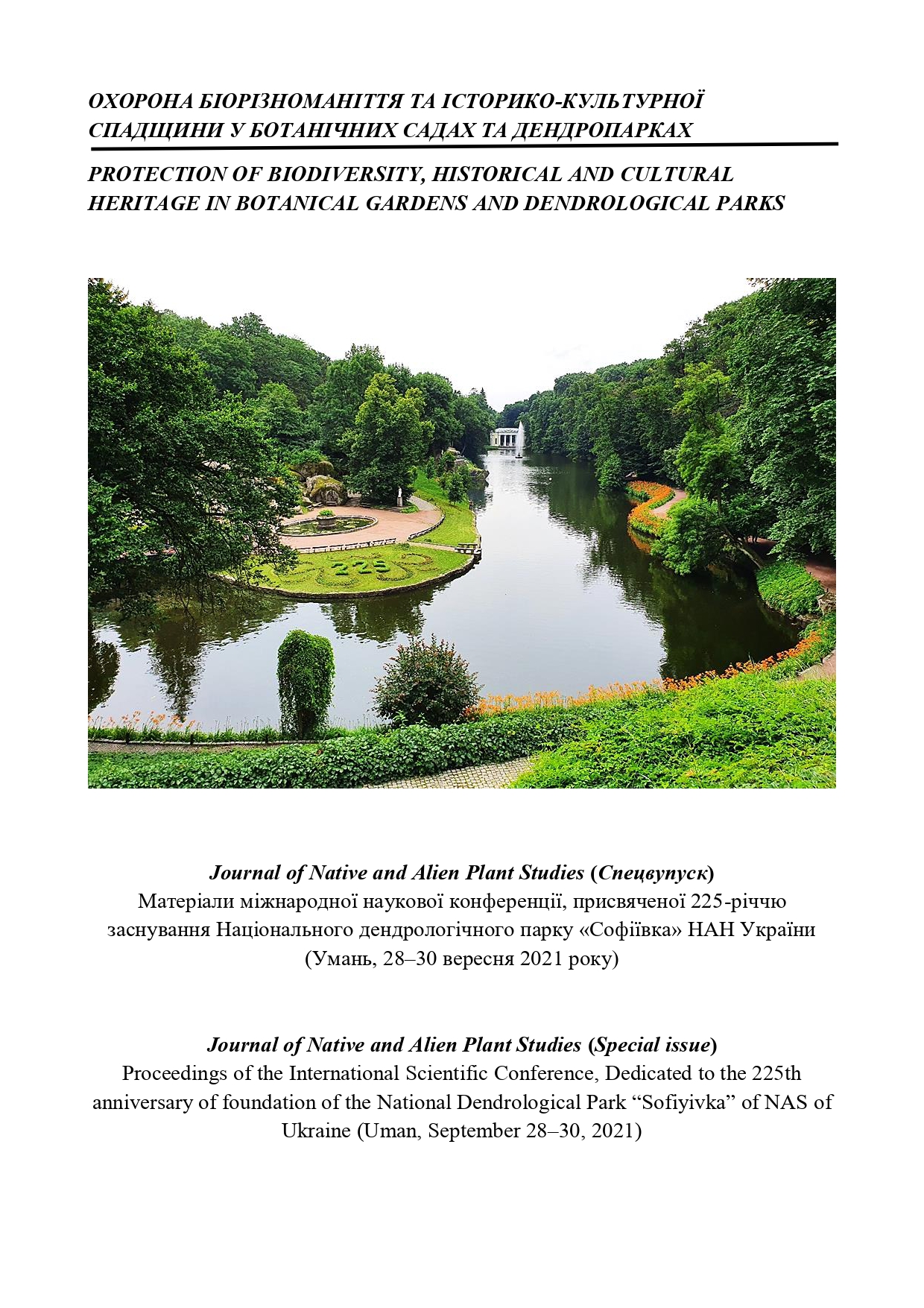 Downloads
How to Cite
Zhygalova, S. L. (2021). Distribution of Iris pineticola Klokov in Ukraine. Journal of Native and Alien Plant Studies, (1), 90–94. https://doi.org/10.37555/2707-3114.1.2021.247480
License
This work is licensed under a Creative Commons Attribution-ShareAlike 4.0 International License.
The names and email addresses entered in this journal site will be used exclusively for the stated purposes of this journal and will not be made available for any other purpose or to any other party.
Responsibility for technical content and for protection of proprietary material rests solely with the author(s) and their organizations and is not the responsibility of the publisher, journal or its Editorial Staff.
The main author is responsible for ensuring that the article has been seen and approved by all the other authors.
It is the responsibility of the author to obtain all necessary copyright release permissions for the use of any copyrighted materials in the manuscript prior to the submission.